A project was initiated to mediate between gamers and the monarchy, demonstrating loyalty to the late King Bhumibol Adulyadej's office. This initiative was held annually from 2006 to 2016. Over the past decade, the "Gamers Love Dad" project has accumulated a total amount of money exceeding Baht 65,232,596 from the sale of items.
All proceeds, without any deductions for expenses, were presented to His Majesty the King for charitable purposes through the Royal Division Office of the Royal Secretariat. The beneficiaries of these contributions include the Chaipattana Foundation, Anandamahidol Foundation, Rajaprachanukroh Foundation, Phra Dabos Foundation, Distance Learning Foundation Under the Royal Patronage, and the Thai Junior Thai Encyclopedia Foundation.
The project also extends its support to youth-oriented foundations, such as the Foundation for Children and Youth, the Foundation for the Better Life of Children, the Thairath Foundation, the Bangkok Post Foundation, and the Thansettakij Foundation.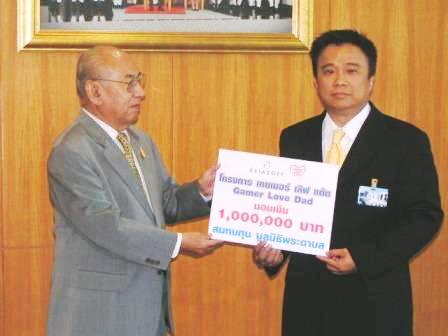 Details of the project each year