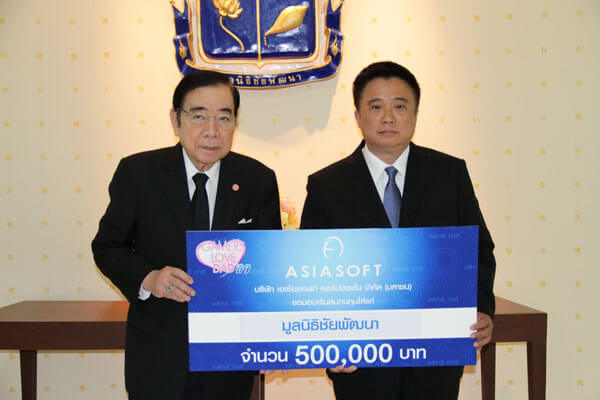 Asiasoft Corporation Public Company Limited unveiled the 9th iteration of the Gamers Love Dad project, themed "Doing Good." Running from December 1 to 31, 2014, this initiative was founded on the principles of benevolence guided by the King's directives. It provided gamers with a unique opportunity to showcase their loyalty, coinciding with the 5th December birthday anniversary.
Gamers Love Dad Year 9 was designed as a platform for gamers to emulate their fathers' virtues through a diverse array of activities orchestrated by Asiasoft. These endeavors encouraged participants to contribute positively to society by procuring special items, the proceeds of which were directed toward various foundations under royal patronage and those associated with children's and youth education. Additionally, interactive activities were curated, allowing gamers to express loyalty to His Majesty the King. These included signing blessings via a designated website and partaking in the "Share My Love" endeavor, aimed at displaying their affection for the King through social media networks.
Asiasoft expresses its heartfelt appreciation to all gamers who actively participated in fostering goodness through the purchase of items from 15 distinguished games, as part of the Gamers Love Dad Project Year 9, "Doing Good." This collaborative effort yielded cumulative sales amounting to Baht 3.3 million. Asiasoft, in representation of the gamers, directed these proceeds towards donations for 9 foundations, encompassing both institutions under royal patronage and those dedicated to youth and education. These include the Chaipattana Foundation, Anandamahidol Foundation, Phra Dabos Foundation, Rajaprachanukroh Foundation, Distance Learning Foundation under Royal Patronage, Thai Junior Thai Encyclopedia Foundation, Foundation for Children and Youth, Foundation for the Better Life of Children, and Books for Children Foundation.
Reflecting on the success of the Gamers Love Dad project spanning a span of 9 years, from 2006 to the present, the cumulative sum of contributions has reached an impressive total of Baht 61,032,596. This remarkable achievement is a testament to the impactful collective efforts of the gaming community.