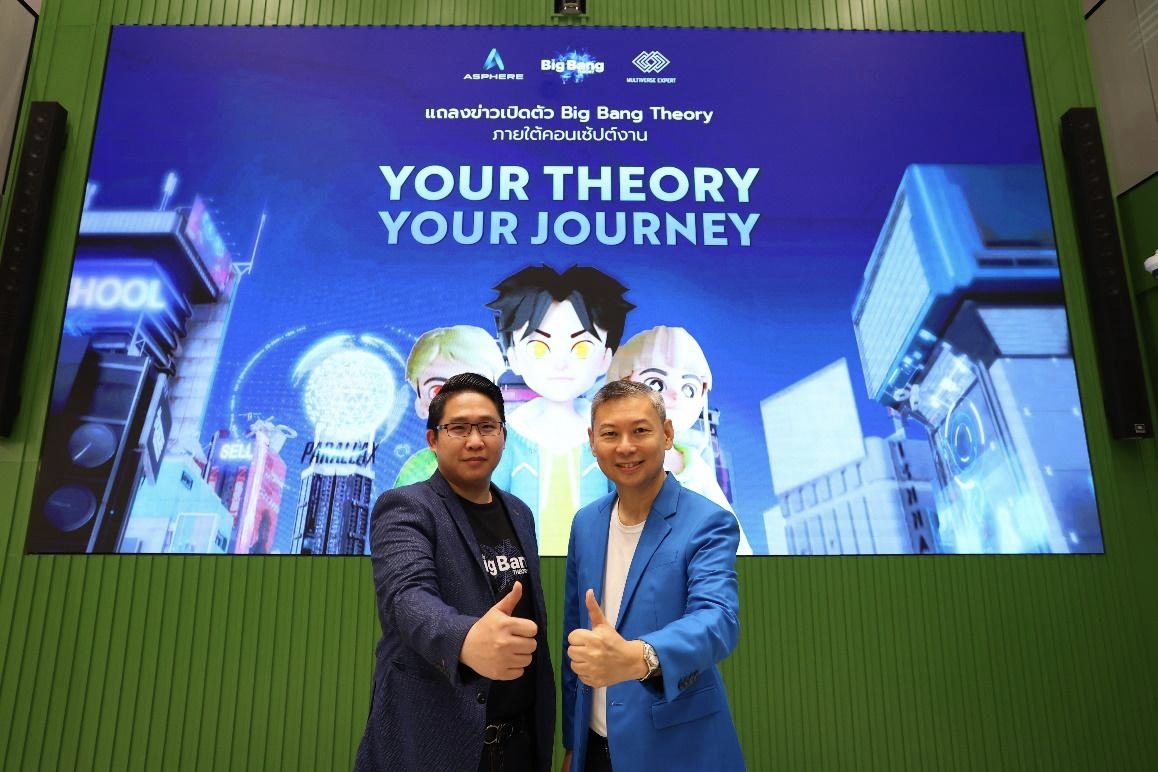 Asphere Innovations PLC. (Asiasoft Corporation PLC.) teams up with Big Bang Theory, a Metaverse and Block Chain Expert, to launch World's First ready to use Metaverse as a Service Platform.
Mr. Kittipong Prucksa-aroon, Chief Executive Officer of Blockchain & Innovation Technologies Group, Asphere Innovations Public Company Limited [previously known as Asiasoft Corporation Public Company Limited) says that the company is committed to continuously expanding the Blockchain & Innovation Technologies business. We see tremendous opportunities in metaverse technology. It's becoming more important in everyday life, as a survey of the world's leading research firms suggests. With strong market growth from 2021, which has a market value of $58,500 million, will increase to $1.5 trillion by 2030. This represents an average annual growth of 43.7% and it is expected that by 2026, 25% of the population will log in to the metaverse at least 1 hour a day, whether for work, education, shopping, social media or various entertainment. In addition, in 2023, we are entering the Marketing 6.0 era or Metaverse Marketing where brands. It is necessary to create immersive experiences for consumers by creating a seamless connection between the offline and online worlds.
ASPHERE Innovations trusts in the capabilities of Big Bang Theory, the world's first metaverse-led Platform As-a-Service, by acquiring a 27% stake in Big Bang Theory. As for the collaboration, Big Bang Theory will develop the metaverse, create token and NFT for use for the purpose of doing CRM for Playpark Company Limited, an online game service company affiliated with Asphere. In the future, Asphere Innovations also plans to help bring the Big Bang Theory platform to expand into the Southeast Asia region as well.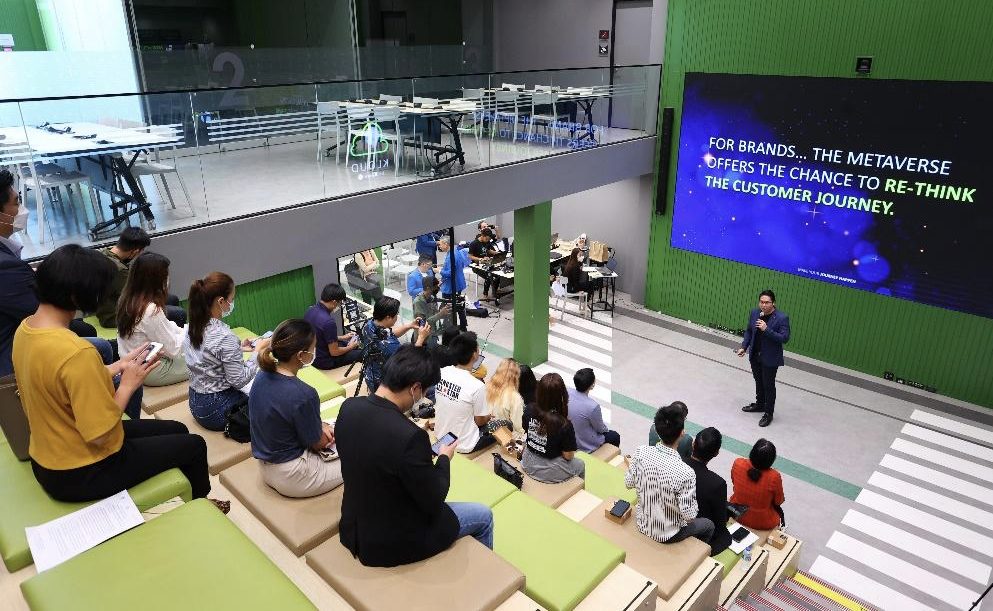 Mr. Pongwud Praipaisankij, Chief Executive Officer of Big Bang Theory Co., Ltd. revealed that Big Bang is one of the leading Metaverse developers and blockchain software developers. We are a subsidiary of Mi group, specialized in the development of information technology infrastructure systems software development and the development of blockchain technology and the Metaverse.
"Big Bang Theory develops Metaverse as a service platform, the core product aimed at providing the Metaverse platform. Without programming or coding, the system helps create a virtual world for all types of businesses by focusing on the business sector to see the importance of technology. That can be used in terms of creating a good experience for customers. As well as changing the traditional business into the virtual world as if imagining. There are many parts of the tools that are on the Big Bang Theory platform that will benefit businesses such as E-Commerce online shopping that can buy, pay and deliver to your home, steaming in the form of doing activities in the online world in a virtual world that are easy to do without programmers, in the corner of Online meetings in a virtual world, with virtual world building tools as easy as you play games on a computer screen, etc.
The company intends to push the Metaverse world into a virtual world. This year we plan to expand the platform to cover comprehensive virtual business solutions such as AR/VR/XR as a Service and the use of Ai technology in various fields such as Ai Generative Verse, Ai Virtual Influencer to meet the needs. Being a tool in Marketing Technology (MarTech) that everyone can easily access, this can be customized by yourself without programming knowledge. Moreover, it must be accessible in a budget that is economical, as well as being a part of an important force that will help drive the business sector in Thailand to understand and see the importance of using the virtual world to drive business in Thailand wirelessly, across the Borders to lead to more convenient and efficient international business.
The functions of the Big Bang are:
This function can be used in terms of organizing seminars, film screenings, live broadcasts, etc. Using this function will give the experience of attendees being in the real event venue. Viewers can view this in two ways as the view of the rate seen on screen in the metaverse world. Streaming in the metaverse has a full screen video view, which is familiar to viewers. Same as watching the video clip through an application on the screen.
In terms of selling products online, this function can provide a shopping experience in the form of a virtual world that can be used easily. Select products, pay, and wait for delivery at home. Payment will support the QR code system and can pay with credit or debit cards. Payment methods on Meta works are easy, convenient, and familiar to buyers, and sellers can easily upload the products. It is no different from up-stocking in common e-commerce applications.
The meeting function is a meeting function on a virtual world that has the same perspective as the meeting participants actually entering the room. And there are sub-functions in the meeting room that are no different from the current meeting, for example, there is a chat channel, microphone and camera can be turned on and off with easy sharing of the screen of the meeting, similar to the system we are used to use online meeting.
It is a function that entertains Metaverse participants which is a game that easy and familiar to users Metaverse creators can set rules to take advantage of this game and create an experience for the customers or users of the Metaverse creators. This part of the function may be one of the functions that attracts people to the creator's metaverse.
The latest new function to create a world of imagination into reality. It can be used in view of annual meetings, fan meetings, political speeches. The outstanding feature of this function is the virtual projection of the speaker or real time speaker. The advantages will make the listeners and viewers closer to other speakers.
However, the company is committed to developing technology that can be applied to various industries in Thailand, as well as to the international level. And ready to be a service provider for developing various systems in the organization to increase the efficiency of work management in terms of target group. Expansion over and reach customer needs online under the creation of a virtual world and creating a metaverse experience for customers effectively, Mr. Pongwud says.