August 15, 2023: Asphere Innovations Public Company Limited Announces Q2 2023 Operating Results
Asphere Innovations Public Company Limited has released its operating results for the second quarter of 2023. During this period, the company generated revenue of Baht 317.0 million, representing a marginal decrease of 1.0% compared to the previous quarter, along with a net profit of Baht 28.9 million, showing a decline of 33.5% QoQ. This drop in net profit can be attributed to a significant increase in marketing expenses associated with the launch of three new games, which unfortunately fell short of the revenue target. Additionally, the company recorded a game license write-off amounting to Baht 16 million, and a one-off accounting adjustment on a liquidation basis for the year 2022 in the Philippines, totaling Baht 11 million. These adjustments resulted from the operational restructuring between the Philippines and Singapore subsidiaries.
Cumulative Performance for H1 2023
For the cumulative performance of the first half of 2023, the company achieved revenue of Baht 637.1 million and a net profit of Baht 72.3 million. However, these figures indicate a decline of 20.6% and 62.1%, respectively, when compared to the same period last year.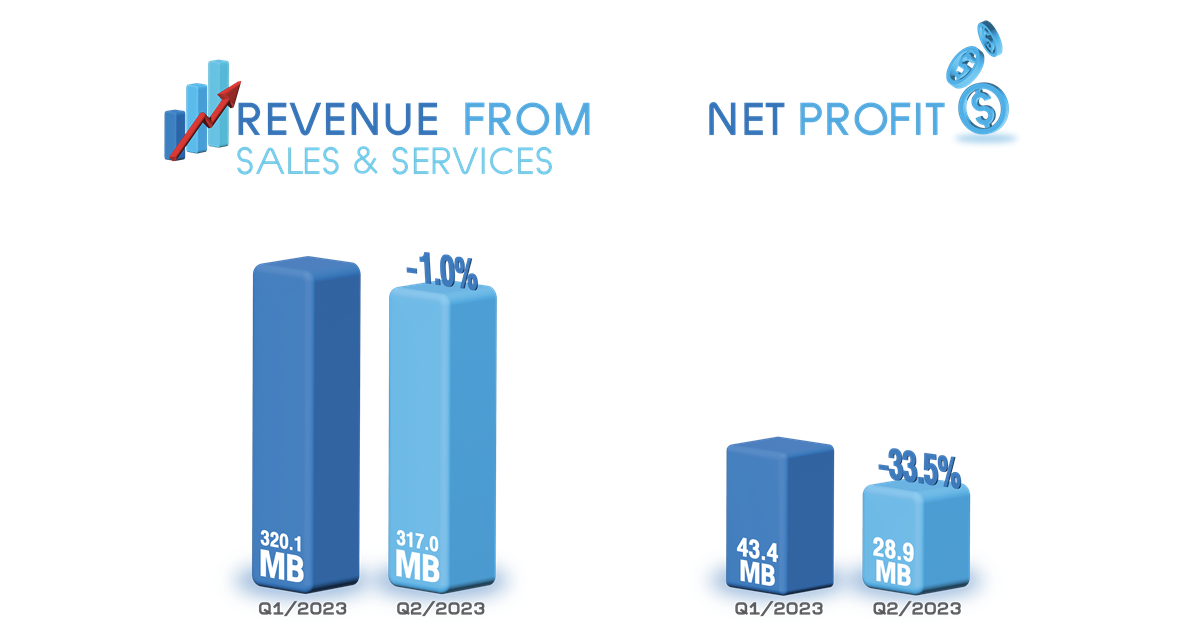 Statement from Mr. Gerry Ung, CFO
Mr. Gerry Ung, the Chief Financial Officer (CFO) of Asphere Innovations Public Company Limited, stated, "During the second quarter, AS Groups made significant strides in bolstering our operational capabilities to align with our new company strategy of becoming a digital technology company. Additionally, our Blockchain & Innovation Technologies Business Group invested in two companies: Big Bang Theory Co., Ltd., a metaverse platform-as-a-service provider, and Bitkub Online Co., Ltd., Thailand's largest digital assets exchange. Our strategic partnership with Bitkub Groups opens the doors to the world of Web 3.0 and allows us to leverage blockchain technology to strengthen the business of AS Groups and our partners."
New Game Launches and Future Plans
The Online Gaming Business Group launched three new mobile games in the second quarter: StreetBallers (available in Thailand, the Philippines, Singapore, Malaysia, and Indonesia), Legend of Savage (available in Thailand), and Onmyoji Arena (available in Vietnam).
Looking ahead, the company is preparing to launch three new mobile games in the next quarter: Samkok Tactics (Tactic RPG), Immortal Kingdoms (MMORPG), and Black Moon (Action RPG). Notably, Samkok Tactics demonstrated remarkable performance by becoming the top-grossing game in China, South Korea, Vietnam, and Taiwan during its launch. Immortal Kingdoms was also among the top-grossing games in South Korea, and it was successfully launched in Taiwan in April of this year. With this diverse portfolio of games and a proven track record, we are confident that these titles will resonate positively with gamers.
Additionally, we plan to celebrate the 18th anniversary of the esteemed legacy PC game, MapleStory SEA, in Singapore and Malaysia, reaffirming our commitment to community engagement. Yulgang, another title, will receive its most significant patch update in three years, while Audition is set to enhance its gaming image through a 17th-anniversary campaign aimed at rekindling the fan base's enthusiasm. This strategic focus on the player community stems from their deep connection with the game, enhancing the likelihood of in-game spending compared to newer players. With this comprehensive plan, we are confident that the company's performance in the third quarter is poised for growth.