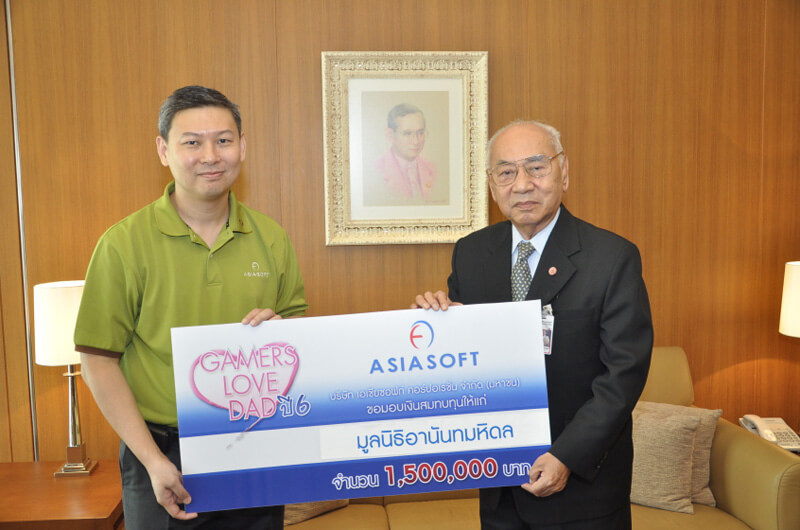 Asiasoft Corporation Public Company Limited launched Gamers Love Dad Year 6 under the theme of "Do Good Things for Dad" from December 1 to 31, 2011, enabling gamers to showcase their loyalty on the occasion of the 5th December birthday anniversary.
The 6th Gamers Love Dad campaign empowered gamers to engage in benevolent deeds and inspire others to follow suit, aligning with the aspirations of our King. By participating in this endeavor alongside Asiasoft, a vibrant community of socially-conscious gamers, individuals contributed to societal betterment. This initiative was a continuation of the CSR Project, an ongoing social endeavor in its sixth year, serving as a platform to exhibit loyalty to His Majesty the King and to express affection for the fathers of online game players.
Asiasoft extends its heartfelt gratitude for the immense kindness shown in promoting education for Thai children. The collective contribution has surpassed an impressive sum of Baht 9.9 million.
Asiasoft, PlayPark, and Funbox express their sincere appreciation to all participants of the Gamer Love Dad Year 6 campaign, "Do Good Things for Dad." In this year's edition, gamers had the opportunity to purchase Love Dad items from 20 popular games offered by Asiasoft, PlayPark, and Funbox. The entirety of proceeds from these sales, without deduction of any expenses, went towards supporting the Gamers Love Dad project. Additionally, activities enabling gamers to convey their paternal affection through online message signing and the "Hand Up…Care Dad" initiative garnered overwhelming responses.
As a culmination of these efforts, the 6th Gamers Love Dad project achieved a total contribution of Baht 9,951,924. This sum is inclusive of contributions spanning the past 6 years, amounting to over 41 million baht. The entirety of this sum, devoid of deductions, was presented to His Majesty the King through His Royal Highness via the Royal Division Office of the Royal Secretariat. Beneficiary organizations included the Chaipattana Foundation, Anandamahidol Foundation, Rajaprachanukroh Foundation, Phra Dabos Foundation, Distance Learning Foundation under Royal Patronage, and the Thai Junior Thai Encyclopedia Foundation. Furthermore, donations were extended to foundations dedicated to the well-being of youth, including the Foundation for Children and Youth, the Foundation for the Better Life of Children, the Thairath Foundation, the Bangkok Post Foundation, and the Thansettakij Foundation. These endeavors collectively work towards promoting education and nurturing the youth, who embody the nation's future.