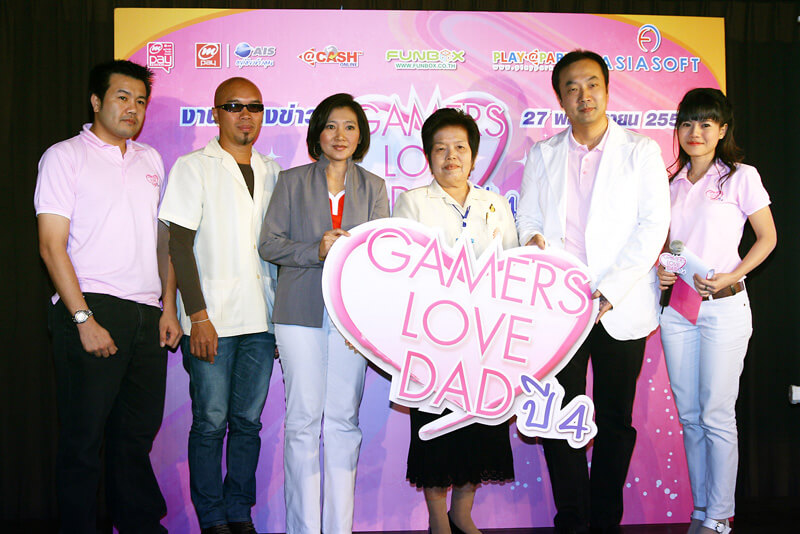 Asiasoft Corporation Public Company Limited continues its tradition of organizing the gamer-inspired "Gamers Love Dad Year 4" project, following the theme of tracing the path of fathers. This social initiative marks the fourth consecutive year of activities, with a press conference held on November 27, 2009, at the Double A Book Tower.
Asiasoft, PlayPark, and Funbox extend their heartfelt gratitude to everyone who contributed to the project's success, including gamers, internet café patrons, dealers, and the general public. This collective effort has been pivotal in creating the remarkable phenomenon of expressing love for fathers within the online gaming community, leading to unparalleled achievements through the "Gamers Love Dad Year 4" project, centered around the theme of "following the father's steps."
This year witnessed the highest level of participation, with more than 100,000 individuals engaging through various company-organized channels. These channels encompassed the acquisition of Love Dad items from 17 popular games across Asiasoft, PlayPark, and Funbox. Furthermore, rare item auctions from 10 games under the Asiasoft and PlayPark umbrellas, along with the sale of shirts featuring the Gamers Love Dad campaign emblem priced at Baht 250 each, contributed to the cause. All proceeds from these endeavors were donated to the Gamer Love Dad campaign, and a portion of the income resulted from @Cash top-ups facilitated through mPAY, mPAY STATION, and @Cash Online channels.
Additionally, activities that allowed individuals to express their affection for their fathers, such as posting messages of love and participating in the online blessing through Mini Play+ on the website www.playpark.com, received an overwhelmingly positive response. Consequently, the 4th Gamer Loved Dad campaign garnered a total contribution of Baht 6,072,196, summing up the accumulated contributions over the past four years to reach Baht 22 million.
This collective income, presented without any deductions, was graciously offered to His Majesty the King by His Royal Highness through the Royal Division Office of the Royal Secretariat. These contributions are part of the broader effort to advance education and nurture the youth who embody the future of the nation.
No.
Foundation/Project
Amount (Baht)
Date
1
Chaipattana Foundation
1,072,196
May 31, 2010
2
Anandamahidol Foundation
1,000,000
3
Phra Dabos Foundation
1,000,000
4
Rajaprachanukroh Foundation
1,000,000
5
Distance Learning Foundation
1,000,000
6
Thai Junior Thai Encyclopedia Foundation
1,000,000
7
Saeng-Saikee (Daily News) Foundation
100,000
May 6, 2010
8
Thairath Foundation
200,000
May 10, 2010
9
Better Life of Children Foundation
100,000
May 11, 2010
10
Thansettakij Foundation
100,000
May 11, 2010
11
Foundation for Children and Youth
100,000
May 12, 2010
12
Books for Children Foundation
100,000
May 14, 2010
13
Bangkok Post Foundation
100,000
May 14, 2010
Total
6,872,196