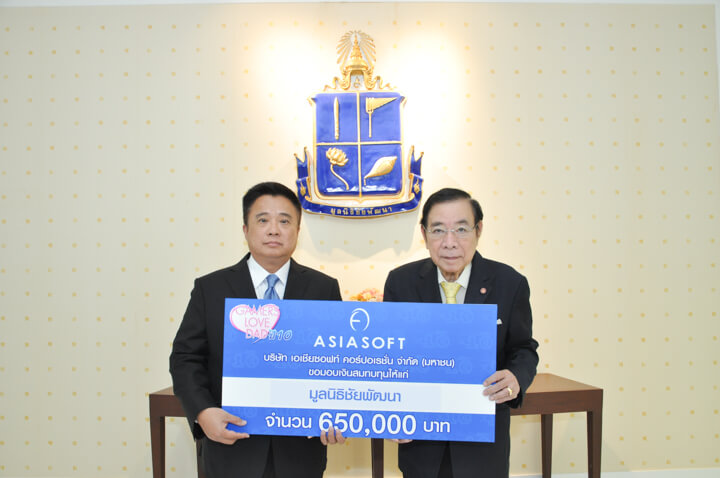 Asia Soft Corporation Limited (Public Company Limited) would like to express gratitude to all gamers who participated in the 10th year of the "Gamers Love Dad" project, "The Power of Goodness Multiplied by 10: Leveling Up the Spirit of Giving, Endless Compassion." This initiative encourages gamers to understand and engage in acts of kindness by joining forces and purchasing special "Love Dad" items to contribute funds for donations, resulting in a total donation amount of 4.2 million Thai Baht.
The "Gamers Love Dad" project, in its 10th year, offers an opportunity for gamers to participate in activities demonstrating love for fathers and share compassion to help society by purchasing special in-game items. This initiative is held annually from December 1st to 31st. In this year's edition, gamers are encouraged to engage in charitable deeds by jointly purchasing special items from games under the Playpark umbrella, such as AUDITION, CABAL, DRAGON NEST, ELSWORD, GRANADO ESPADA, PHANTASY STAR, RAGNAROK, and YULGANG. This initiative has received a positive response from gamers.
Asia Soft Corporation will act as the representative for all gamers and donate the entire sum without any deductions to related educational charities and foundations. The donations will support education for children and youth. Nine organizations are beneficiaries, including Chai Pattana Foundation, Anandamahidol Foundation, Phradabos Foundation, Ratchaprasong Foundation, Distance Learning Foundation via Satellite, Thai Youth Encyclopedia Project, Create a Child Foundation, Children's Book Foundation, and Child Development Foundation. The funds are utilized to aid these foundations in their efforts to enhance educational opportunities and development for children and youth. The success of the "Gamers Love Dad" project over the past 10 years, from 2006 to the present, has garnered a cumulative donation amount of 65,232,596 Thai Baht, contributing significantly to supporting society.